Massage Therapy Testimonial – Anna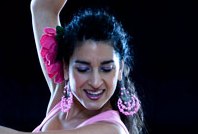 I have been treated by Amanda for over 5 years now and am so impressed with her work that I won't go to anyone else. I have had countless massages over the last 15 years but can honestly say that Amanda is by far the best practitioner I have encountered.
Being a dancer puts specific stresses on my body, particularly my shoulders and arms and Amanda's massages have been the only treatment that has really dealt with the problem and eased the pain for me. In addition to her experience and extensive study of the body, I feel she is extremely gifted and intuitive as to where she needs to focus. She has incredible strength for the deep tissue massage I need yet is sensitive in checking whether she is applying the correct pressure for what I can take.
In addition to her massage, her reflexology treatment is not only extremely powerful in helping me rebalance my system but also the most relaxing therapy I have ever experienced.
Anna Dueñas León
www.flamencodance.co.uk
Flamenco dancer/choreographer/teacher